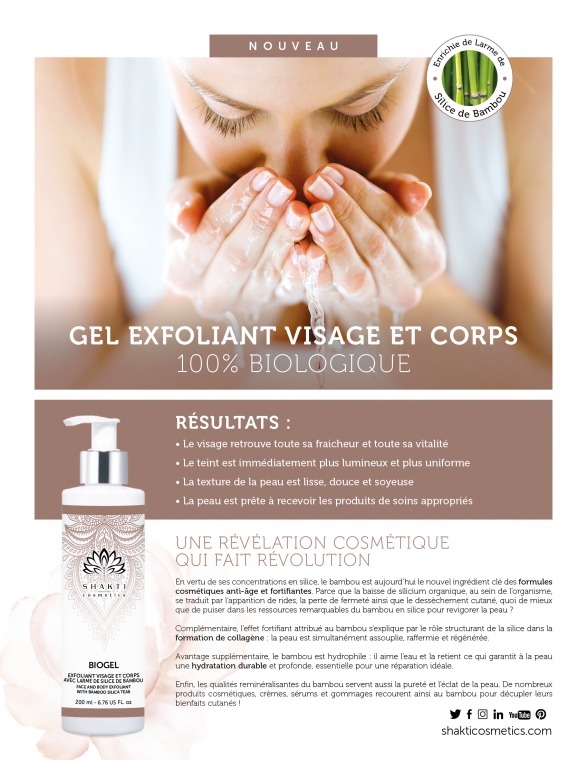 CHARACTERISTICS :

Gentle, purifying and refreshing exfoliating gel for the face and body.
Its formula, based on absorbent bamboo silica and cleansing coconut extract, removes dead cells and impurities from the skin to reveal all the radiance and vitality of the skin.
Enriched with 100% organic emollient and moisturizing Aloe Vera gel, this treatment protects the skin's hydration barrier and leaves the skin extremely soft to the touch.
Its complex of soothing and relaxing essential oils provides a pleasant feeling of calm and serenity for the whole body upon application.

Formula currently being approved by Ecocert Greenlife with a view to obtaining COSMOS ORGANIC certification.
RESULTS:
 The face regains all its freshness and vitality
 The complexion is immediately brighter and more even
 The texture of the skin is smooth, soft and silky
 The skin is ready to receive the appropriate care products

MANUAL :
Once or twice a week, apply to moistened skin.
Massage, rinse and repeat
if necessary.
For external use only.
Avoid contact with the eyes.
KEY INGREDIENTS: Bamboo Silica Tear, Decyl Glucoside, Aloe Vera Gel
ADDITIONAL INFORMATION ON INGREDIENTS

Tear of Silica
Bamboo:
 Natural exfoliant rich in organic silica
 Provides a soft, silky and satin feel
 Cleanses the skin deeply
 Smoothes the skin and brightens the complexion
 Mattifying agent

Decyl glucoside
 Biodegradable biological surfactant
 Gentle coconut cleanser, deeply cleanses without irritating the skin
 Excellent foaming and cleaning properties
 Softens and improves the appearance of the skin

Aloe Vera gel
 100% organic reconstituted gel
 Moisturizing, soothing and protective
 Emollient effect that softens the skin
 Protects the skin's hydration barrier
 Rich in polysaccharides, vitamins and minerals